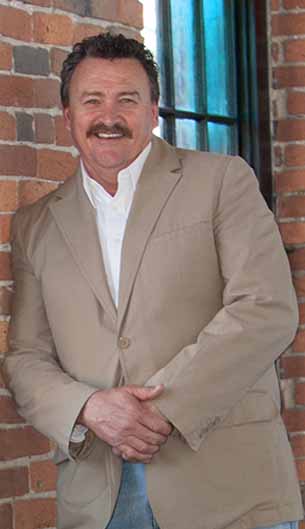 Darrell Marshall
Darrell was born and raised in a gospel-singing family in Southern Illinois where his parents, brother sister and he traveled to various churches and provided special music and concerts. After graduating high school he started singing in a men's quartet where he had the opportunity to go to Nashville and record an album. The group sang together about a year. 1976 he sang with a men's trio named "Shiloh."  He also recorded an album with them in Nashville. 
Darrell worked in a coal mine in Carmi, IL for 14 yrs. Met and married his wife Gayla in 1981. They were married 21 years until Gayla's death in 2002. During their marriage they were very involved in their local church, working in the youth group, choir etc and raising two daughters, Kami and Alea. All the while Darrell traveled to area churches to sing as a soloist.
In 1994 Darrell left the coal mine to start a seamless gutter business with his wife Gayla but felt the call of God to continue singing as well. In 1999 God provided the opportunity for Darrell to join Danny Shelton at the Three Angel Broadcasting Network where he regularly sings as a soloist and appears on their television broadcasts. In between working at 3ABN he continued to traveled all over the country, singing in various churches, concerts and events. It was during this time that God provided another opportunity to record the CD "All of The Above" which was released in 2001.
On October 18, 2002 Darrell experienced the tragic loss of his wife, Gayla, due to an accident while working in their gutter business. This event changed his life. While it was devastating to Darrell and his family it caused him to draw closer to God and realize how he could lean and trust on Almighty God in EVERY situation. Darrell saw how much he needed God and his faith grew as a result of that need. He quickly learned how to rely on, depend on and trust God who wants nothing more than to comfort, encourage and heal the broken-hearted. During the grieving period, God laid something else on Darrell's heart to share with people, and that is how important it is to treasure our relationships while we have them, and how we need to make sure that our spouses and families hear those words of love from us. No one knows when we or one of our loved ones will be called home. Darrell is humbled and honored that God uses him to sing for HIM and spread HIS message of love,
A few months after Gayla's death Darrell joined a men's trio called One Voice and, as the name depicts, they were known for their close harmony. They recorded and released a CD in 2003. Darrell sang with One Voice for 3 ½ years. The two other men had jobs and young families and couldn't sing as often as Darrell felt lead to.
In August of 2002, Darrell first started singing with The Heritage Singers, directed by Max Mace. He was invited to join them on their annual Northwest Tour, sometimes as a fill-in singer, but often as a soloist. He continued to sing with them and has traveled to Jamaica, Hawaii, and all over the country. Darrell considers it an honor to be invited along to travel and sing with such a Godly group of people!
In 2004 Darrell returned to the studio to record his third CD, "Armor of God." God put the words of the title song, taken from Ephesians 6, in his heart as a friend and he wrote the song:
Pray also for me, that whenever I open my mouth, words may be given to me, so that I will fearlessly make known the mystery of the Gospel.
Ephesians 6:19-20
In 2006 , God gave Darrell the opportunity to record his fourth CD, "Just A Rose Will Do." This CD is a tribute to his gospel-singing heritage, starting with his grandmother and continuing through the life of his parents and now his own life. It is more traditional in nature and includes many of the old hymns. Darrell's grandmother would have wholeheartedly approved of it! Darrell first heard his grandmother sing the title song, "Just A Rose Will Do," in church as a little boy. His grandmother died on Christmas of 2005 and this CD is dedicated to her and the legacy she left behind.
Another song on that CD that has great personal meaning for Darrell is "I Want To Stroll Over Heaven With You." Darrell wrote the third verse of that song to stress that as we feel the loss and grieve over the deaths of our loved ones. God promises to give us a new day when we can all be together again. Knowing this gives us great comfort as we watch people that we love pass on to a better place. We will be with them again in that better place and it will be a wonderful time of reunion and joy, not only because we will be with our loved ones again, but will be with them in the presence of our Lord and Savior!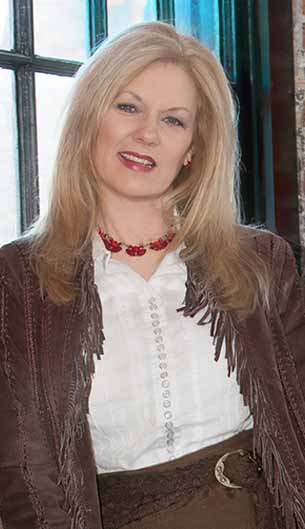 Brenda Marshall
Brenda Marshall is the daughter of Pastor/Evangelist Rev and Mrs. Woodrow Wilkins. She is the 5th of 6 daughters. Both her mother and father were ministers. She grew up knowing nothing other than the wonderful ways of our Lord and Savior. She was taught the bible and not only heard it but watched it being "lived" by her parents. She said she knew how REAL God was by everything she saw and heard in her lifetime.
She knows that God can do anything but fail. If the word says God can heal the sick, (she's experienced many miracles in her lifetime and has witnessed hundreds of others)….she knows God can heal!  When his word says God SAVES she knows he can save… as she has experienced his precious salvation in her own life. She knows the WORD of GOD to be true. Her mother and father could preach but they didn't play any musical instruments. They laid hands on their children and prayed and asked God to give them the "gift" to play musical instruments for his glory. God did. All 6 daughters played piano without ever having taken a piano lesson. Brenda plays piano, organ, keyboards, some bass guitar and accordion.
From a small child Brenda knew her GIFTwas playing and singing for GOD's glory. It has been her passion from a child. In 1971 she married Evangelist/Musician/Songwriter/Singer Walt Gartrell. They were married for 32 years until his death in February 2004. They traveled full time with their only daughter Deborah who was also a gifted singer and drummer. After the loss of her husband Brenda felt a great loss, as everyone does when their mate dies. She felt like her life had no meaning.
She felt complete when she ministered with him because they were a team, now what could she do by herself? She joined her church choir and threw her emotions and energy to just worshiping God with everything she had. She realized everyone of us have a job to do and until God says it's "time to come home" we've got to keep working. She soon had many people telling her they got so much from just watching her worship. They could see the glory of God all over her as she worshiped God and didn't care what anyone around her was doing.
She was just worshiping the Almighty. Before long God filled that empty space within her heart. She had prayed for years that God would send her someone who was wholly dedicated to traveling and spreading the gospel to the world. In 2009 she and her family group Judah sang at a gospel concert at the Convention Center in Branson, MO. That is where she met Darrell Marshall.
They soon discovered they had many things in common and they both lived near Nashville, TN. They were married in Gatlingburg, TN on July 15th, 2010.
If you've never seen Darrell and Brenda Marshall in concert, make plans to attend a concert soon.
Darrell and Brenda Marshall are dedicated to taking the gospel to the world in Song. They combine their faith and talent to deliver the message of hope to their audiences across the nation.  Attending one of their concerts is like attending a church service. Each song is delivered with conviction and great harmony . Darrell is destined to make his way in southern gospel music as a great singer. His voice is smooth, enlightening and easy to listen to. He's been referred to as a "gospel crooner" compared to such voices as Frank Sinatra and Tony Bennett. His singing leaves you wanting more.  Additional information on Darrell and Brenda Marshall including CD's are available by calling 618-384-8107.